Fist of Justice Grade 5
English Name:
Fist of Justice G5
Japanese Name:
Seigi no Tekken G5
Japanese Writing:
正義の鉄拳G5
Type:
GK
Element:
Light
Used by:
Mark Evans
Evolved from:
Fist of Justice G4
The Fist of Justice evolved further even after evolving from Grade 3 to Grade 4 from their(Inazuma Japan) match against Neo Japan to decide which team will be Japan's representative.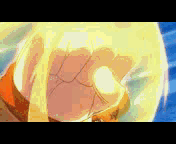 In every grade of Fist of Justice, the fist glows even more.
Fist of Justice G3, G4, G5 are executed in the same episode, Episode 77.
This is the technique that Mamoru powered up the most.