Death Zone
English Name:
Death Zone
Japanese Name:
Desu Zon
Japanese Writing:
デスゾーン
Type:
Shooting
Element:
Darkness
Used by:
Jirou Sakuma
Jimon Daiki
Doumen Shuuichirou
Evolved form:
Death Zone 2
It is a hissatsu technique that is performed by three people.
They will spin forming a triangle. The ball is hit with unity of the members.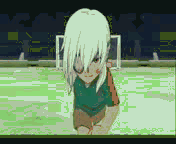 Raimon's version
Edit
This is the first hissatsu technique shown in the anime.